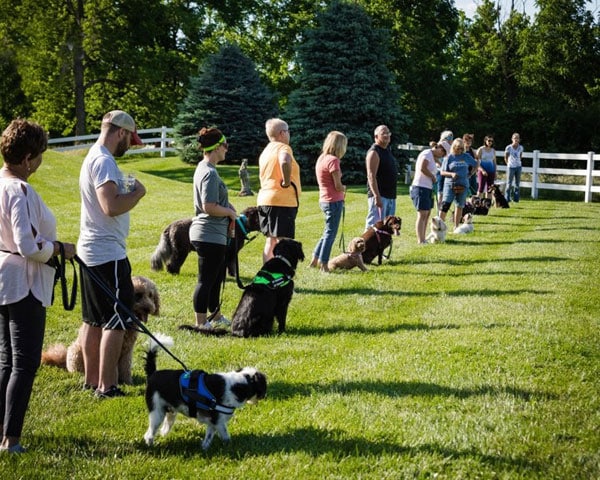 Group Classes
---
Congratulations on making the responsible decision to maximize the relationship between you and your pet through training!  A well behaved/trained pet will provide long term benefits for you, your pet, and others. At For Paws we use a Levels Method of training designed for rapid success for the owner/parent and pup to move up relatively quickly through all levels, ideally, within approximately 4-5 sessions per level. The success of our training program is not only determined by the quality of training, but also by the commitment, consistency, diligence and follow through of each client with his/her dog. The For Paws Canine Obedience Training experience is fun and interesting for both you and your pup.
Orientation 
Before attending your first Group Class you will need to have an Orientation. If you do an In-Home session prior to attending class this will count as your orientation.  Otherwise you will need to go through our scheduling page to sign-up for your orientation.  If you are not sure which class to register for feel free to contact us.
You will bring your pup to the orientation. Be sure to bring a variety of treats your pup loves. All dogs must have a collar/harness and be on a leash. (No retractable leashes please.) Your dog must be up to date on all vaccinations and have record of a current health exam. Please bring a copy of this record with you.
During orientation, we become familiar with you, your goals, and your dog. Also, we discuss the "Levels Training Method" commands and exercises. During this time, we will also complete the Training Agreement and collect payment.
Classes 
Our classes are 1 hour long. At the beginning of each class we usually provide some off leash-free play time for the dogs.  This helps with socialization and using up some energy so dogs can focus more during class.
At each session we work on multiple skills, repeating some from previous classes with a slight twist…and introducing new skills.  Since new clients can begin classes at any time there will be a variety of experience/skill levels during each class.  We modify instruction based on the clients/dogs in class. The trainers will explain and/or demonstrate the skills. Owner/Dog teams will practice exercises during class time and have the opportunity to ask questions.
We provide handouts at each class to take home for practice exercises.  We also provide informational handouts from time to time about dog care and other tips.  If we must cancel classes for holidays, special events, etc. we will let you know during class and provide a change of schedule notice.  When classes are canceled, the Training Package end dates are automatically extended.
Once you have completed the registration and provided payment for training with us, you will be given a link to use sign-up for each class you attend using our scheduling system. If you are unsure about which level to attend ask one of our trainers
2023 Training Schedule
PUPPY CULTURE
LEVEL 1
LEVEL 2
LEVEL 3
LEVEL 4

Monday

9:00 AM

Tuesday

6:00 PM

Monday

6:00 PM

Monday

10:15 AM **

Monday

10:15 AM **

Tuesday

7:10 PM

Wednesday

9:00 AM **

Wednesday

9:00 AM **

Monday

7:10 PM

Tuesday

5:00 PM

Thursday

6:00 PM

Wednesday

6:00 PM

Wednesday

7:10 PM

Wednesday

10:15 AM **

Wednesday

10:15 AM **

Saturday

9:00 AM

Friday

7:10 PM

Saturday

11:30 AM

Friday

6:00 PM

Thursday

7:10 PM

Saturday

10:15 AM
** These classes are combined levels and are limited to 8 participants per class.
You can attend up to two (2) classes per week.
Remember you can bring your dog to a lower Level class anytime your pet needs a refresher or additional training. You can attend multiple classes per week. Don't hesitate to ask questions about what Level you should attend.Go to Group Class Sign-Up to sign up for class each week.  Please remember to cancel if you are unable to attend.  Also, if space is available the day before class, you can attend a second class that week.    Our address is 2844B (barn) Crescent Springs Rd. Erlanger, KY 41018